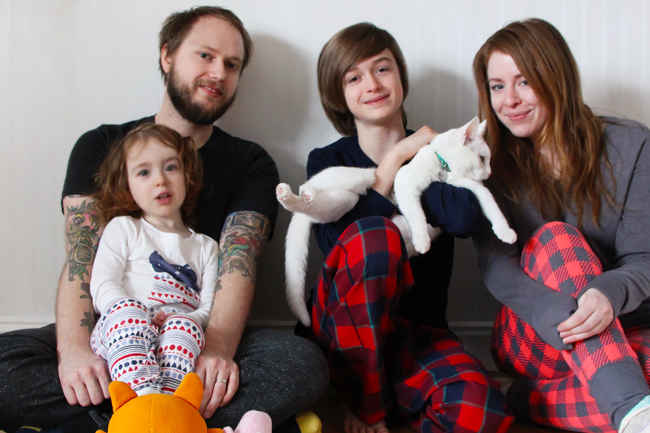 Merry Christmas, everyone!
With little ones, the hustle that we go through is so worth seeing their faces light up. Everyn is quiet and polite with a sweet, "Thank you" after every. single. gift. Elspeth shouts, "Wew, I like it!" "I'm excited!" "Ohhh, wow...!"
Because I love you all, I'm sharing an impromptu, slightly blurry, intimate moment of sleepy eyes, messy hair, first thing in the morning, post-gifts photo to send love from our family to your's. Elspeth may have chocolate on her face, was not pleased with having to put her pants on, and tried to claim that her shirt was not an artsy cat, but rather something scary (until we told her it's name was Jingle and then she caved). And, you get to see Everyn without his hat on (a rare moment, indeed).
We've got some cooking, wrapping paper collecting, and straightening up to do this morning before more family comes along. Sean and Elspeth are building a play-doh creation at the table and Everyn is reading a new book on the couch. Carols are playing and I'm looking around at them all as I write this and thinking about how blessed I am to have such a crazy, silly, loving, wonderful family.
Merry Christmas, happy holidays, and all my love,
Amanda
_____________________________________________________________
If you'd like to listen to our newest Christmas carols for 2015, you will find
I've Got My Love To Keep Me Warm
and
Early (Christmas) Morning Blues
here
. Thank you for all the encouragement each year. Your comments, listens, downloads, and messages are the sweetest in the world and make our hearts happy to work hard on these each year. Thank you!